Haines, Alaska
Haines is a popular destination for birders, photographers, and adventure seekers of all walks.  Haines is the jumping off point for the Chilkat Bald Eagle Preserve and at times has a larger population of eagles than it does people.  Haines is easily accessible by air and ferry service from Juneau and Skagway or via the Haines Highway. Parking is plentiful and we offer door to door service from any local hotel, B&B or the airport and ferry terminal.
Getting Here
The fastest way to get here is to fly.  A typical flight from Juneau to Haines takes 45 minutes and the flight from Skagway takes 15 minutes.  Mountains, Glaciers and waterfalls line the route and there are numerous daily flights  all summer long.
The Alaska Marine Highway Ferry is slower  but it travels in all weather and offers breathtaking scenery, frequent whale sightings and  a comfortable ride .  The view from the front lounge and the upper deck are postcard worthy and the cafeteria is well equipped. A trip from Juneau to Haines takes about 4.5 hours and only 1 hour to get from Skagway to Haines. Ferries typically run once a day in summer.
The Haines Skagway Fast Ferry makes multiple trips per day between Haines and Skagway.  The trip takes 45 minutes aboard a jet propelled catamaran. This is a popular choice for cruise ship passengers coming from Skagway. The Fast Ferry does sell out at peak times.
For a more personalized touch check out Alaska Fjordlines.  This family run passenger ferry incorporates whale watching and a local guide into a beautiful cruise between Skagway, Haines and Juneau.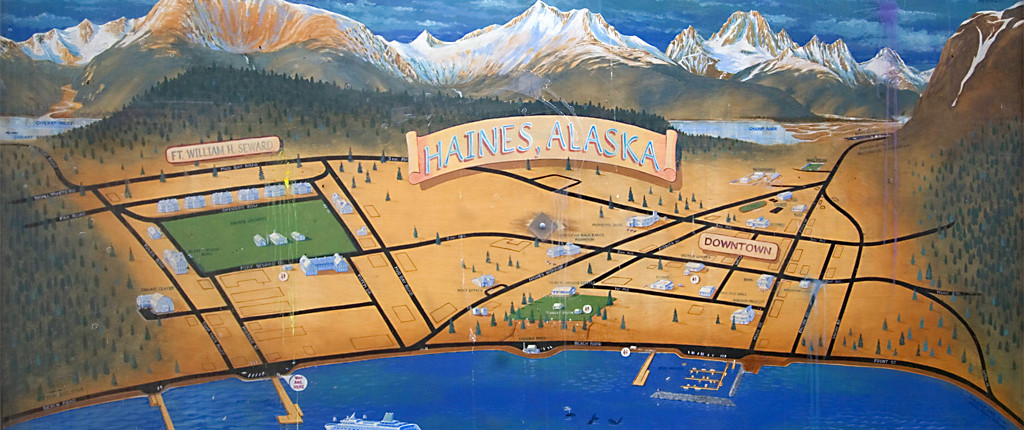 Skagway Alaska
Skagway is the northernmost town on the Lynn Fjord and is the final destination for many Alaska cruise ships.    The distance between Haines and Skagway is roughly 19 miles in a straight line but nearly 360 miles apart by road.
Several commercial air carriers and ferries offer daily service between Haines, Skagway  and Juneau. All travel options are equally scenic so pick the one that fits your schedule. 
Flights back and forth between Haines and Skagway take roughly 15 minutes and the ferry ride is 45 minutes to an hour.
 The trip to and from Juneau is an hour by air and nearly 6 hours by Alaska Marine Highway ferry.
Alaska Fjordlines offers daily tours from Skagway to Juneau in peak season and incorporates whale watching and a guide for the 1/2 day trip.

Juneau Alaska
Juneau is the jumping off point for most Southeast Alaska travel.  Although not connected by road it is the state capitol and the nearest jetport to Haines and Skagway. Juneau is serviced by Alaska Airlines and Delta. Numerous commuter flights and daily ferry service bring travelers to and from Haines and Skagway.
Flying in small 5 to 10 passenger aircraft is the fastest way to get to the surrounding area. Flights from Juneau to Haines and Skagway typically take 45 minutes to 1 hour.
The once a day Alaska Marine Highway ferry is slower and less expensive but offers a reliable and scenic alternative to flying.
The ferry ride to Haines takes roughly 4.5 hours, add an additional hour and a half for the trip to Skagway.