Bike and Raft Adventure 
Need some exercise on your Alaska vacation? Haines Rafting Company has teamed up with Sockeye Cycle to offer this exclusive tour of the Chilkat Bald Eagle Preserve by bicycle and raft. The route follows a maze of logging roads before arriving at a remote river put-in on the Tsirku River.  After a hearty riverside snack you will raft the swift glacial currents of the Tsirku past nesting eagles, glacier capped mountains and a host of other wild animals that call the preserve home. Your choice of hands on paddle assisted rafting or just let our oarsman do all the work. 
Price: 179 Child – 249 Adult. Duration: 1/2 day
Treat yourself to a gentle raft trip through the heart of the Chilkat Bald Eagle Preserve, home to more than 250 resident eagles. Keep your cameras handy because the 48,000 acre preserve is home to a host of other wildlife such as  moose, bear, wolf, and 5 species of salmon. In the fall the eagle population can exceed 3,000 eagles!
 Price: 59 Child – 139 Adult  Duration:  1/2 Day  (4-5 hours)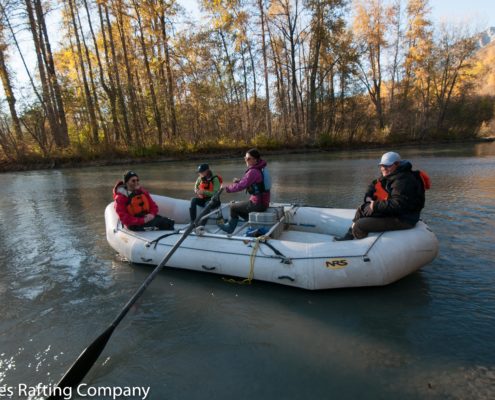 Fly & Raft Trip
For the ultimate adventure combine a Glacier Bay Scenic Flight and an Eagle Preserve Raft Trip. Watch this ice age wilderness unfold as glaciers descend towing peaks before forming river valleys below.  Fly over Glacier Bay among sapphire ice falls and turquoise fjords before landing in Haines for a rafting trip on the swift glacial braids of the Tsirku River. You will experience a fast changing scene as you pass from lush forest to open delta. Your guide does the rowing leaving you to watch for eagles, wild salmon and a host of other wildlife that call the preserve home.  Cameras and binoculars welcome, this is not a whitewater trip.
Price: 279 Child – 479 Adult  Duration: 1/2 day